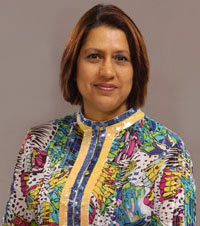 Bapsy Jain worked for ten years on her debut novel, Blind Pilgrim. What took so long? "I am not a writer," she says. "I'm a thinker, but I'm compelled to write." Why? "I don't know. I have the opportunity to do these things." Part of Bapsy's writing story was her commitment to get the novel right. "I had offers to publish sooner, but I was not confident that the book lived up to its potential." To that end she made numerous revisions. "I wanted a story that would make people think. That's a tall order."
Blind Pilgrim's now Lucky Everyday's acceptance itself was a unique story. "The Penguin editor happened to be in Bombay, and one of my friends gave her a copy. She picked it up on the way to the airport and read it on the plane. She called from the airport in Delhi and said, "We'll take it." Bapsy laughs. "It must be one of the fastest acceptances in publishing history. And Penguin was very good to me," she says. "Especially Mike Bryan, their CEO. They have been very professional and helpful all along."
Penguin USA acquired the book this past March, and subsequently it will be published world wide by Penguin. Meanwhile, Blind Pilgrim is a best seller in India. After only a month on the shelf it went into a second printing. Bapsy says, "I like that people are reading my book, and I want my message to get across. I like that it talks to so many different people: Mothers and wives and men, even men in prison. We all face difficulties. This is a book about hope, growth, and having faith in one's self in the face of adversity."
Was her quest for excellence successful? Her emails tell her that people like the story, though not everybody grasps the depth of its philosophy, though some do. One read, 'After reading your book, I look at everything differently.' All agree that the book is a fast an entertaining read.
In brief, Lucky Everyday tells the story of Lucky Boyce, a young, London-educated Indian woman working in New York, who is swept off her feet and into a world of trouble when she falls in love with Vikram Singh, only son of a wealthy Mumbai family. When the marriage fails she returns to New York, where she volunteers to teach yoga to prison inmates. She finds a job with an old business associate, but here the story takes a surprising (and vicious) twist - which I am sworn not to reveal. But any sense that this is a light romance ought to be dashed as the novel turns serious. "One does not choose this kind of life," one of the characters says to Lucky, "this kind of life chooses you."
Where did all of this imagination come from? Well, there are certain biographical similarities. Like Lucky, Bapsy is a chartered accountant, and like Lucky, she was educated in London, but there the likeness ends. Bapsy says, "Writing a book is not about the author. It takes on an identity of its own. The author is just an instrument. We are commentators on life.
I write by thinking: What if I hadn't been so lucky? What if these things happened to me? I have been very fortunate in life, but it doesn't mean that I don't think about people who aren't. I worry about people. I care about their difficulties. I grew writing this book. I grew in courage, not only by writing and putting myself out there as a writer, but because I put so much into Lucky. I never want to go through as much as she goes through in real life. I took on her troubles, in a way, and faced up to them myself."
Bapsy laughs when asked whether success has spoiled her. "Lots of my friends don't know that I have written a book," she says. "Jain is a common name, and I don't talk about it much. I want people to read the book because they are curious about the book, not because they are curious about me." For the record, Penguin has taken rights on a sequel, so we are sure to be delighted by more works from Bapsy in the future.